Cheapest EV SSL Certificates
An EV Certificate is a new type of certificate that is designed to prevent phishing attacks better than normal SSL certificates. What makes an EV Certificate so special? An SSL Certificate Provider has to do some extensive validation to give you one including:
Verifying that your organization is legally registered and active
Verifying the address and phone number of your organization
Verifying that your organization has exclusive right to use the domain specified in the EV Certificate
Verifying that the person ordering the certificate has been authorized by the organization
Verifying that your organization is not on any government blacklists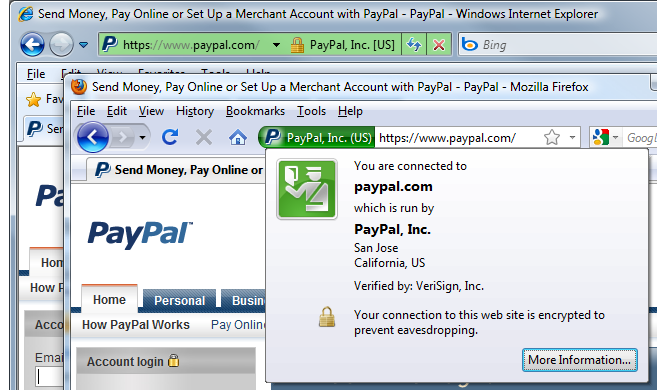 The standards that all SSL providers have to follow to issue an EV Certificate were created and agreed upon by all the members of the CA/Browser Forum. If you want to know exactly what a provider has to do to issue an EV Certificate, check out the EV SSL Certificate Guidelines.
Because of the extensive validation, an EV Certificate can take few days to a few weeks to receive, but it provides many benefits. It provides a much greater assurance by turning the address bar green. Once your visitors start to look for the green address bar on your site, they won't be fooled by some phisher using a normal certificate (and no phisher would be able to get an EV Certificate). Read more about how EV SSL Certificates could benefit your site or check out the links below to learn more about EV SSL Certificates in general.
In order to help you find the best, cheap EV Certificate, we have compared the cheapest EV SSL Certificates below. If you would like to compare all EV certificates, compare SSL with our SSL Wizard.
| Certificate Name | DigiCert's Extended Validation SSL | SSL.com's Enterprise EV SSL | Entrust's EV Multi-Domain SSL | Sectigo's EV SSL |
| --- | --- | --- | --- | --- |
| Buy Now | Buy Now | Buy Now | Buy Now | Buy Now |
| Certificate Authority | DigiCert | SSL.com | Entrust | Sectigo |
| Certificate Authority Rating | From 1437 reviews | From 89 reviews | From 477 reviews | From 1818 reviews |
| Price For 1 Year | $344 | $299 | $215 | $449 |
| Multiple Year Options | Up to 2 Years | Up to 2 Years | Up to 2 Years | Up to 2 Years |
| Domains Secured | Single Domain Name (FQDN) + www SAN | Single Domain Name (FQDN) | 2 Different Domain Names Included - Additional hostnames available for $119 each. | Single Domain Name (FQDN) + www SAN |
| Issuance Speed | Within 1 day after all documentation is received | 7-10 days | 5-10 business days | Within 1 day after all documentation is received |
| Validation Required | Extensive Organization and Domain Validation | Extensive Organization and Domain Validation | Extensive Organization and Domain Validation | Extensive Organization and Domain Validation |
| Notification Level in Browsers | Green Address Bar + Domain Name and Organization Name Shown On Certificate | Green Address Bar + Domain Name and Organization Name Shown On Certificate | Green Address Bar + Domain Name and Organization Name Shown On Certificate | Green Address Bar + Domain Name and Organization Name Shown On Certificate |
| Browser Compatibility | 99% | 99% | 99% | 99% |
| Number of Free Reissues Allowed | Unlimited until expired | Unlimited until expired | Unlimited until expired | Unlimited until expired |
| Server License | Unlimited Servers | Unlimited Servers | Unlimited Servers | Unlimited Servers |
| Support Options | Free Chat, Phone and E-mail, Monday-Thursday 24 hrs., Friday 12 am-7 pm, Saturday 7 am-3 pm MST | Free Chat, Phone and E-mail, 24/7 | Free E-mail, Phone Monday to Friday 8 AM to 8 PM EST | Free Chat, Phone and E-mail, 24/7 |
| Refund Policy | Full refund within 30 days of issuance | Full refund within 30 days of issuance | No refund | Full refund within 30 days of issuance |
| Warranty | $1,000,000 | $250,000 | $1,000,000 | $1,750,000 |
| Learn More | Learn More | Learn More | Learn More | Learn More |
| Remove From Comparison | Remove | Remove | Remove | Remove |
| Buy Now | Buy Now | Buy Now | Buy Now | Buy Now |
More EV SSL Info