Apple Code Signing Certificates
Apple Code Signing Certificates allow you to sign all kinds of Mac OS X software and updates. When you sign your code using an OS X Code Signing Certificate, your users will know that it comes from a trusted source (you) and that it hasn't been tampered with since you signed it. This means that your users won't see a warning message after each new version of your application is installed asking them to allow or deny the application access to the keychain: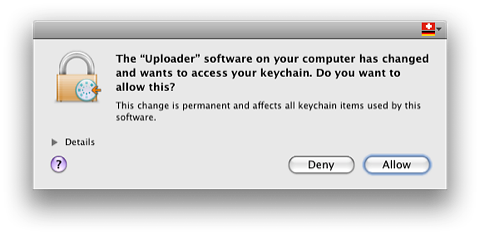 By using an Apple Code Signing Certificate to sign your software you:
Prove your identity to your users so they are more likely to trust it
Ensure that the software can't be modified afterwards
Show your users that the software is safe to download and install
Protect your brand
Avoid annoying confirmation dialogs
Because Apple Code Signing Certificates need to be issued by a trusted certificate authority, you will need to purchase one from one of the providers listed below. Use the comparison chart below to find out which Apple OS X Code Signing Certificate will meet your needs the best and provide the greatest value. You can compare prices, compatibility, provider reviews and ratings, support, and other features. After clicking the Buy Now button, make sure to select Apple Mac OS X as the certificate type so that the provider generates the certificate in the appropriate format. To learn more about code signing, read What is Code Signing? or Procedures for signing a Mac OS X Application.
| Certificate Name | DigiCert's Code Signing | Entrust's Code Signing | Sectigo's Code Signing Certificate | Symantec's Code Signing Certificate |
| --- | --- | --- | --- | --- |
| Buy Now | Buy Now | Buy Now | Buy Now | Buy Now |
| Certificate Authority | DigiCert | Entrust | Sectigo | Symantec |
| Certificate Authority Rating | From 1441 reviews | From 480 reviews | From 2051 reviews | From 42 reviews |
| Price For 1 Year | $499 | $299 | $179 | $499 |
| Supports Windows Authenticode Signing | | | | |
| Supports Apple OS X Signing | | | | |
| Supports Microsoft Office VBA Signing | | | | |
| Supports Sun Java Signing | | | | |
| Supports Adobe Air Signing | | | | |
| Supports Windows Vista x64 Kernel Mode Signing | | | | |
| Multiple Year Options | Up to 2 Years | Up to 3 Years | Up to 2 Years | Up to 2 Years |
| Issuance Speed | Within 1 day after all documentation is received | 1 day | Less than 2 days | 2-4 business days |
| Validation Required | Organization Validation | Organization Validation | Organization Validation | Organization Validation |
| Number of Free Reissues Allowed | Unlimited until expired | Unlimited for 30 days | Unlimited until expired | Unlimited for 30 days |
| Support Options | Free Chat, Phone and E-mail, Monday-Thursday 24 hrs., Friday 12 am-7 pm, Saturday 7 am-3 pm MST | Free E-mail, Phone Monday to Friday 8 AM to 8 PM EST | Free Chat, and E-mail, 24/7 | Free Chat, Phone and E-mail, Monday-Friday 5AM-6PM PST, Multi-lingual |
| Refund Policy | Full refund within 30 days of issuance | No refund | Full refund within 30 days of issuance | Full refund within 30 days of issuance |
| Warranty | $0 | $0 | $0 | $0 |
| Learn More | Learn More | Learn More | Learn More | Learn More |
| Buy Now | Buy Now | Buy Now | Buy Now | Buy Now |
Mac OS X Code Signing Resources: