Firefox EV Certificate Interface plans
Johnathan Nightingale, Firefox security interface designer, has released a lot of information about the user interface for the next version of Firefox. Particularly important is how it handles EV and normal SSL certificates.
In his article "Will Firefox have a green bar?" he responds to a common question about IE7's green bar:
The second most frequent question I get asked, and the one I'm more directly positioned to answer, is whether Firefox 3 will have an IE7-style Green Bar. I'm going to try to answer that here by offering my opinion on the matter, and an update on my coding progress to that end.

The short answer to that question is: no.

The longer answer is: it is not my preference to do so, though I recognize that, in order to aid in user education, we will have to find SOME consistent visual presentation across browsers. I just don't think the green bar is the right one.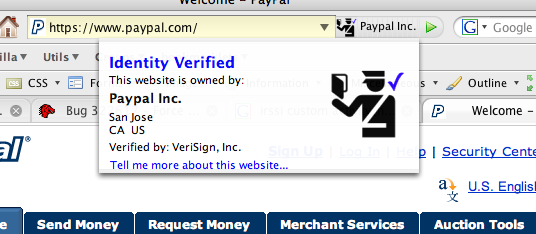 His interesting views on security UI were shared at the OSCON open source summit. Those slides can be viewed here.
More information can be found on Jonathan's blog, meandering wildly.
Originally posted on Fri Aug 3, 2007